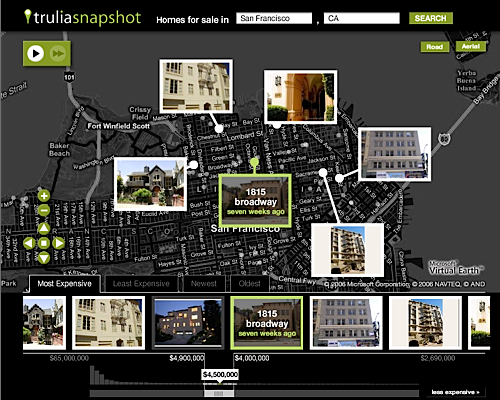 As part of our ongoing collaboration with Trulia we recently released Trulia Snapshot. We were privileged to once again work with the inimitable Ryan Alexander on this, and credit goes to him for the development of the original prototype and the springy image layout that defined the movement and flow of the map. During development, Geraldine Sarmiento joined Stamen full time and was able to help me give Snapshot the polish it deserved after Ryan moved onto another project. Geraldine worked with us as a freelance designer on Trulia Hindsight too, so it was great to have her back for Snapshot.
If you don't have time to try the site right now, perhaps you'll enjoy this promo video made by the lovely folks over at Trulia:

TruliaSnapshot Demo from Trulia.com on Vimeo.