In my post about the good people at
Yahoo's design research group
in September I suggested that some of their visualisations remind me of the movie War Games. I love the movie, but I continue to think that certain kinds of accidental visual resonance should be avoided. The 'incoming' visualisations by
the good people at Dopplr
have this problem too.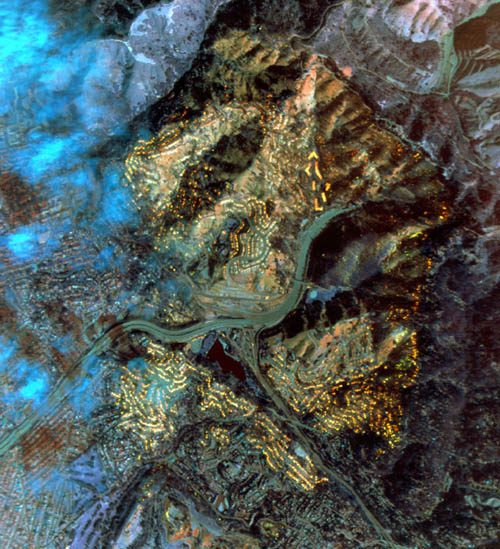 Today, Mike sent me the above image that Gem ffffound showing the devastation caused by the Oakland Hills firestorm in 1991. It's shocking, stunning and scary all at once to see so many homes ablaze like that. Mike pointed out that it looks like some of the work from our Trulia Hindsight project at Stamen.
Thankfully I think Mike was referring to the early prototypes I made in Processing using additive blending and a red-through-blue colour range. I've uploaded a movie of one of these prototypes to Vimeo so you can get an idea of what we're talking about:

San Francisco Property Prices, Animated from Stamen on Vimeo.
The fact that certain parts of the movie looked like San Francisco was burning, or being bombed, was definitely a problem we had to avoid for the final piece. It's something I wouldn't want to be thinking about addicentally if I was trying to find out about real-estate in the area. What we want is to make something that can illustrate the effects of real devastation if we want it to, without emotionally swindling you if you just want to think about urban growth. That's why we knocked out the red and orange hues in the colour range, added a drop shadow and ditched the additive blending. Ultimately, it was more appropriate to show data on the map than in the map.

So, if you want to you can look up some of the areas of Oakland affected by the fires in 1991, such as this example, and spot the clear rebuilding activity in 1992. With luck, the animation will illustrate some of the devastation caused by the fires, without looking like a simulated disaster.