In a recent post about
Google's Authentic Voice Problem
, Nat Torkington documented the "time-honored marketing blog post formula":
Find something topical.
Identify the shiznit you wish to pimp.
Find a line (however tenuous) between the two and the post just writes itself!
Something Topical.
There was a small but significant earthquake just outside Oakland last week. Lots of people were woken up by it. Dentures and tea-cups rattled throughout the bay area. Amazingly, around 6,000 people had reported it on the USGS's site by 10am in the morning. Go people!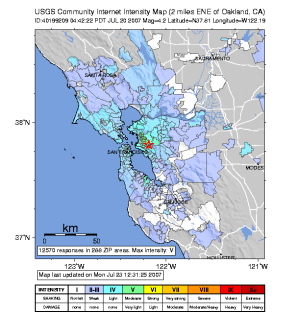 Some Shiznit to Pimp.
I've been looking for an excuse to post about Uniqlo's clock website, featuring Japanese dancers on a one second timer, it's completely hypnotic (and yes the dancers are cute, I know that too). Now you can get your own for your blog, and share it with the world. 6,000 people have shared it so far.
The Line.
At Stamen we make beautiful interactive maps, native to the web. Imagine if the production qualities of the Uniqlo clock were brought to data as important as people's accounts of how an earthquake felt to them. That's the kind of work I aspire to, and I think that's where we're heading. What other tenuous lines should I be drawing in order to articulate this, I wonder?